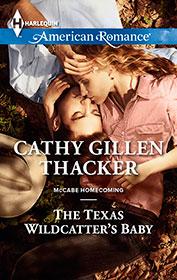 Dear Reader,
Life would be pretty boring if nothing ever altered. On the other hand, unexpected change often causes havoc in our personal and professional lives.
Such is the case for environmental engineer Rand McCabe and wildcatter Ginger Rollins. Neither plan to marry any time soon. Never mind live in a honeymoon cottage with each other for the rest of the year! Yet unexpected circumstances quickly force them to do both.
And there the fun begins. Ginger vows sharing quarters with the sexy McCabe heartthrob will not alter her feelings or feisty, independent outlook in the slightest. For her, it's business first, last, and always. The family-oriented Rand wants their relationship to grow into something much more satisfying, but only if the maddeningly elusive Ginger will let down her guard, and open up her heart.
Neither Ginger nor Rand understand that when life changes, they must change, too. For more information on this and other books, please visit me at www.cathygillenthacker.com, Facebook, and Twitter.
Best wishes, and happy reading!
Cathy Gillen Thacker