Tuesday, November 10 2015
In celebration of 10 years of digital publishing, Harlequin is offering 10,000 e-book titles priced at $1.99! Their biggest e-book sale ever starts today... from November 10th – November 17th at Amazon.com, Barnes and Noble, Nook, Google and Kobo (US only). There are over 60 of my books at this incredible price. Grab some today!
-->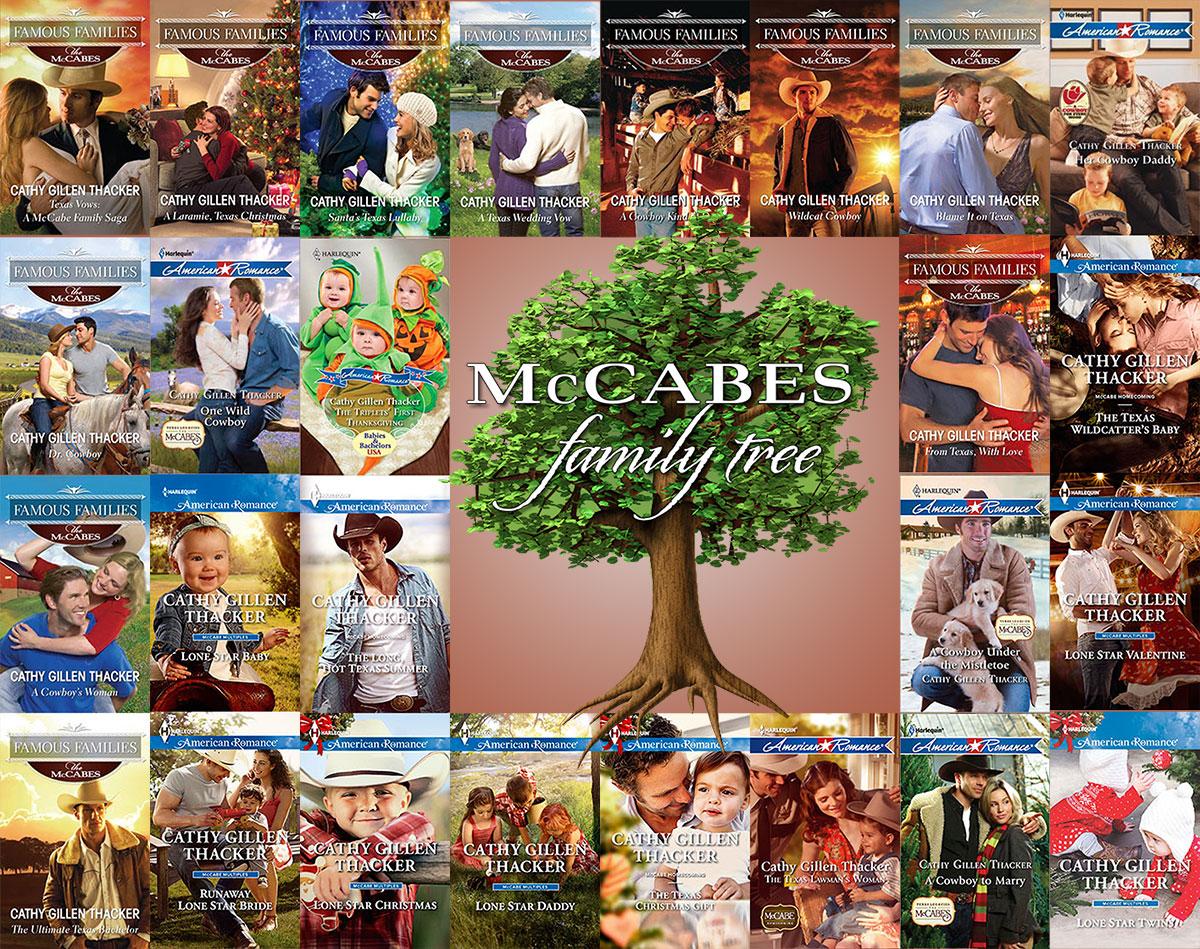 One of the most often asked fan questions is "Which McCabe books should I read first?".
Start with the four original McCabe books, The McCabes of Texas,
then read Texas Vows, a single title about Sam McCabe and his brood,
and then The McCabes: The Next Generation books--all about the sons and daughter of Sam and Kate McCabe from Texas Vows.
Then the series Texas Legacies:The Mccabes,
followed by the McCabe Homecoming series,
and finally the series that is out now, McCabe Multiples.
Confused? There is help! Visit my website series guide, complete with book covers, and individual story info, and a McCabe family tree, also with book covers. All that said, each book is a stand-alone read, so you can read them in any order, and refer to the family tree if you want to know more. I hope this helps!
Thank you so much for your interest in my stories, and for reading!
Sincerely,
Cathy Gillen Thacker
Dear Reader,
Marriage is complicated under the best of circumstances. But when two long-time friends decide to marry in order to have a family together, life gets even more complex. For starters, Poppy McCabe and Trace Caulder are adopting. And not just one baby, but twins!
Poppy's bungalow is small. But again, not a problem. Trace, a pilot, won't be around that much. Plus, Poppy has triplet and twin sisters, so she knows a thing or two about life with multiples. She is sure she can handle it, all on her own. And if not, she has all those McCabe's nearby…

Trace's tumultuous childhood taught him a lot about domestic strife, and how to avoid it. First, make the military your home. Second, find a woman who is as fiercely independent as you are, then hang onto the friendship and passion you share. Third, keep to the limits you've set.

This works fine, until an unexpected event throws yet another monkey wrench into Trace's and Poppy's plans. Then, Poppy needs Trace to let down his guard and tell her what is in his heart. Trace isn't sure he can…


READ EXCERPT
I hope you enjoy this last installment of McCabe Multiples!
Cathy Gillen Thacker