Tuesday, December 10 2013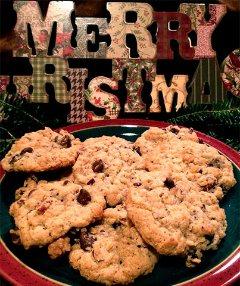 December is the month for lots of cookie-baking—in our home and many others. In the spirit of the holidays, here is my recipe for a perennial Texas favorite—Ranger Cookies. Enjoy and happy holidays!
Ranger Cookies

1 cup butter
1 cup white sugar
1 cup brown sugar
2 eggs
1 teaspoon vanilla
2 cups flour
1 teaspoon baking soda
1 teaspoon baking powder
½ teaspoon salt
2 cups quick-cooking oatmeal
3 cups Rice Krispies
½ cup shredded coconut
½ cup chopped pecans
½ cup chocolate chips
½ cup dried cherries

Cream the butter and sugars together. Add the eggs and vanilla; mix until smooth. Sift flour, soda, baking powder, and salt together; add to creamed mixture and mix well. Add cereal, oats, chocolate chips, dried cherries and pecans, and mix. Form into balls and place on a cookie sheet. Bake for 10-12 minutes in a 350 degree oven. Should yield about six dozen cookies.